GTS® Humidifier LX Series
Model Numbers: LX-50, LX-75, LX-100, LX-150, LX-200, LX-250, LX-300, LX-400, LX-500, LX-600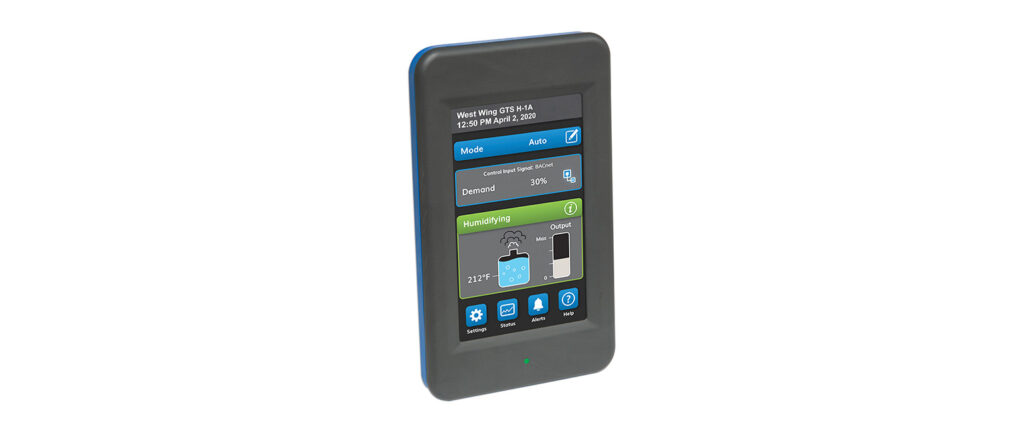 The GTS humidifier LX Series is the only gas-fired humidifier that combines the highest efficiency on the market with ultra-low NOx in a single design.
Thermal (combustion) efficiency
94% Higher Heating Value (HHV) of fuel
103% Lower Heating Value (LHV) of fuel
The GTS humidifier LX series offers:
Condensing design for highest efficiency and PVC venting.
Ultra-low NOx certified to SCAQMD 1146.2 standards.
Smart drain technology adjusts drain intervals automatically based on water quality.
Universal water control for use with any water type, including RO/DI water.
Modulating output with minimum 5:1 turndown for accurate humidity control.
Outdoor and indoor models for application flexibility.
All LX Series GTS humidifiers feature touchscreen display. This new display has all the industry-leading functionality of Vapor-logic® controller with an intuitive interface, animated graphics, and a Set-up Wizard for easier start-ups.
Controlled by:
Dispersion devices:
Features and Benefits
High efficiency and ultra-low NOx in a single design
Minimum 5:1 turndown ratio
Smart drain technology automatically adjusts drain intervals
Category IV (condensing, positive pressure) venting
Indoor and outdoor models
Integral drain tempering
Fully interoperable with BACnet®, ModBus®, or LonTalk systems
Vapor-logic® controller touchscreen display
Product Resources
Brochures, IOMs , & Catalogs
If you're a DriSteem Sales Rep, log in to view diagrams, vendor cut sheets, schedules, & compliance documents.
Connect with your DriSteem Sales Rep to access diagrams, vendor cut sheets, schedules, & compliance documents.
BIM Content
All of DriSteem products are available on the BIM object websites below. These sites include free downloads of CAD (.dwg) files, Revit (RFA) files, specification details, brochures, Installation and Operation Manuals, and more.
Historical Manuals